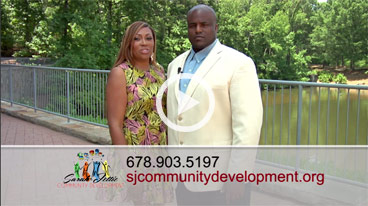 Welcome to Sarah Jettie Community Development
Welcome to Sarah-Jettie Community Development we will provide holistic care. This organization is a certified 501(c) (3) non–profit corporation. We are dedicated to helping everyone live their life to the fullest, while creating a positive and therapeutic atmosphere that creates a better tomorrow, an atmosphere that encourages the participation of all individuals in need in their day– to–day lives. We strive to offer a community that promotes self- respect, independence, and improves the quality of life for all persons receiving our services.

Sarah August 29, 1929 - March 14, 2001
Sarah was born on August 29, 1929 and had four children, James, Jr., Mary Edna, Karen and Nannette. She had 11 grandchildren, 27 great grandchildren and 17 great great grandchildren who she loved very dearly. She lived in Logan Station, NC where she attended New Hope School and completed up to an 8 grade education but that never deterred her from being a life learner and a teacher to the children and adults in the community. She was a very caring and giving woman to all who were in need and found time to care for the elderly and those persons in the community with all types of needs regardless of who they were or what situation they found themselves in. She truly believed that it took a village to raise a child and would take the time to speak to any child she came in contact with and was admired by all who knew her. Her passion for life and the lives of young women was exhibited in her calling to mentor young girls and women on those essential areas of their lives that would help them become a quintessential woman, not only in the community but in the world.
October 9, 1933 Jettie
Jettie was born October 9, 1933 the second child of 11 born to Floyd and Essie Brown of Trenton, NC. The family lived in Haiti at that time in the home of her maternal grandfather, Ed Brown. Jet's older sister, Mary, died the same month Jet was born. She graduated from Trenton High School in 1951 and graduated from E & M Beauty School as Salutatorian in 1952. Her "besties" were Trunnie, Hazeltine Meadows, Mary Strayhorn, and Lucille Brown Barber. She taught 4 H'ers how to sew on Mam's Singer treadle sewing machine. As an adult, she always came home for events and services which showed her dedication and commitment to her community and the people who lived there. Jet is the mother of 9 children, grandmother of 25 grandchildren and great grandmother to 35. She is now a babysitter for her youngest great-grand, Jade Couser. She is a devout member of Next Level Christian Church on Florida Street in Greensboro, NC where she is a church mother and attends Sunday School, Bible Study, and worship service each week. After retiring from Cone Mills (22 yrs.), she and husband C.D. Tucker reside in Greensboro, NC.